Sample and Information on Our Giclee / Canvas Prints
WIDTH 24" - HEIGHT 16" - THICKNESS 1.5"
We have selected certain prints for printing on stretched canvas, the photo to art category on our site is definitely a collection of samples made for canvas. While they also look stunning framed under glass on Moab paper, we feel canvas offers a different medium and a lower cost to the customer. We leave the choice up to you, as to which is best for you.
Generally we stretch the canvas onto medium duty stretcher bars and have the print travel around to the side edges in what is commonly called 'Gallery Wrap'. The benefit of doing this is that people can choose whether to have it framed or hang it straight on the wall as is. We personally like the gallery wrap look hung straight on the wall, but have seen several of our canvas prints framed beautifully and a framed print does have more of a polished - finished look. I think it becomes a personal choice.
First we print the image on Chromata White™ Canvas by Breathing Color, then we leave it to cure for 24 hours or more. I then coat the canvas with a varnish made specifically for this canvas, Glamour II varnish. I might recoat the varnish a second time if I am not a hundred percent happy with the first coat. Once I am happy with the varnish I will leave it to cure for two or three days. While its curing I will prepare some 16x24" medium duty gallery wrap stretcher bars, and have them assembled ready to mount the canvas. I hand stretch and staple the canvas over the frame. Once that is complete we check it for quality and install the hanging wire and sign it, we re-inspect it and then wrap it for delivery.
Below are two photos of a finished gallery wrap canvas print, also known as giclee' prints.
The above photo is of the front of the canvas, leaning back so you can see how it wraps around the edge.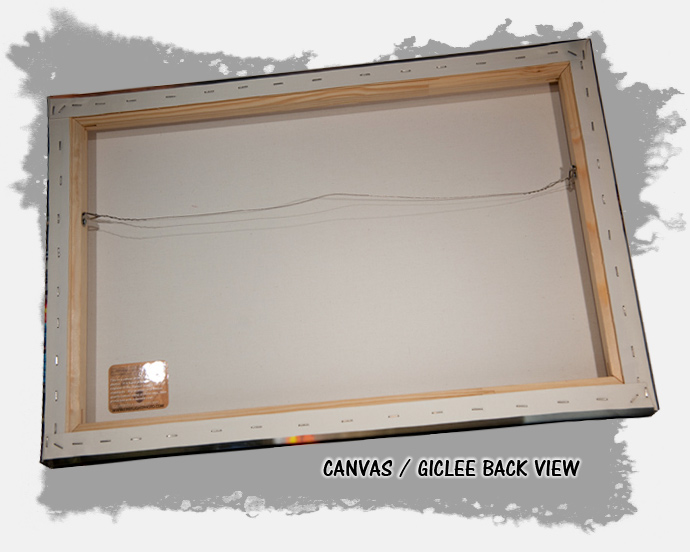 The back of the canvas print.